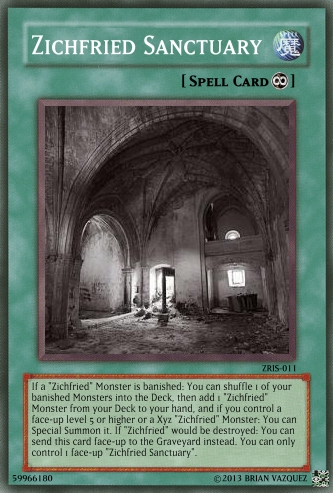 Zichfried Sanctuary
Edit
Inglés: Zichfried Sanctuary
Español: Santuario Zichfried
Tipo: Magia Continua
Velocidad: 1
No. de Carta: 59966180
Uso: PROHIBIDA
Generación: Primera
Clasificación: 3 (Broken)
Creador: Brian Vázquez
Año: 2013         
Efectos:
Si un monstruo "Zichfried" es desterrado: Puedes barajar 1 de tus monstruos desterrados en el Deck, entonces agrega 1 monstruo "Zichfried" desde tu Deck a tu mano, y si controlas a monstruo de Nivel 5 o mayor o a un monstruo Xyz "Zichfried" boca arriba: puedes Invocarlo de de Modo Especial. Si "Zichfried" fuera a ser destruido: Puedes enviar esta carta boca arriba al Cementerio en su lugar. Solo puedes controlar 1 "Santuario Zichfried" boca arriba.
El efecto de agregar/Invocar monstruos "Zichfried" puede ser activado tantas veces como monstruos sean retirados del juego, aún si son retirados al mismo tiempo.
Si "Zichfried" fuera a ser destruido puedes enviar esta carta al Cementerio para evitarlo, aún si es tu oponente quien controla esta carta.
Si un monstruo "Zichfried" de tu oponente es desterrado a sus cartas desterradas, puede activar este efecto, aún si tu controlas esta carta.
Información
Edit
Esta carta esta basada en la temática del arquetipo Zichfried sobre una ciudad abandonada, esta vez se hace referencia a un santuario en donde los espíritus de la ciudad son más avistados que en las afueras del edificio. El nombre original de la carta era "Zichfried Church" (Iglesia Zichfried en español), pero fue cambiado a última hora.El efecto esta basado en la carta "Madolche Ticket" del TCG.
Ad blocker interference detected!
Wikia is a free-to-use site that makes money from advertising. We have a modified experience for viewers using ad blockers

Wikia is not accessible if you've made further modifications. Remove the custom ad blocker rule(s) and the page will load as expected.