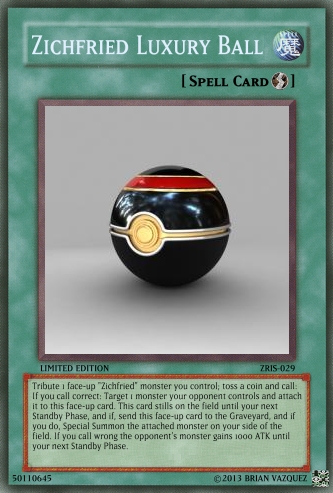 Zichfried Luxury Ball
Edit
Inglés: Zichfried Luxury Ball
Español: Lujobola Zichfried
Tipo: Magia Rápida
Velocidad: 2
No. de Carta: 50110645
Uso: PROHIBIDA
Generación: Primera
Clasificación: 2 (Media)
Creador: Brian Vázquez
Año: 2013         

Efectos:
Tributa 1 monstruo "Zichfried" boca arriba que controles; tira una moneda y llama: Si llamas correcto: Selecciona 1 monstruo que tu oponente controle y acoplalo a esta carta boca-arriba. Esta carta permanece en el campo hasta tu siguiente Standby Phase, y si lo hace, envia esta carta boca arriba al Cementerio, y si lo haces, Invoca de Moso Especial el montruo acoplado en tu lado del campo. Si llamas incorrecto el monstruo oponente gana 1000 ATK hasta tu siguiente Standby Phase.
Cuando se acopla el monstruo seleccionado a esta carta, se hace como si de un monstruo Xyz se tratara. Esta carta permanecerá boca arriba hasta la siguiente Standby Phase a menos que algo le ocurra.
Si esta carta boca arriba es Colocada mientras tenía un monstruo acoplado, el monstruo permanece ahí, pero si no esta boca arriba en tu siguiente Standby Phase, esta carta continuará boca abajo sin posiblidad de activación. En caso de ser volteada por algún efecto de carta, el monstruo acoplado permanecerá ahí.
Si esta carta con un monstruo acoplado es destruida o retirada del campo, el monstruo será enviado al Cementerio y esta carta sufrirá los efectos de manera normal.
Información
Edit
"Zichfried Luxury Ball" esta basada en las Luxury Ball del anime/manga/videojuego Pokémon, al igual que su efecto. Una versión mejorada fue creada en la segunda fase del Deck Zichfried llamada "Zichfried Master Ball", la cual no se basa en el azar para tomar el control de los monstruos del oponente, sin embargo su costo es mayor.
Ad blocker interference detected!
Wikia is a free-to-use site that makes money from advertising. We have a modified experience for viewers using ad blockers

Wikia is not accessible if you've made further modifications. Remove the custom ad blocker rule(s) and the page will load as expected.