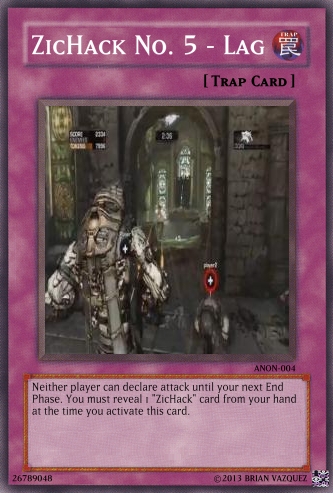 ZicHack 
es un arquetipo cancelado de primera generación creado por Zichfried, en un principio fue pensado como un Deck conformado casi en su totalidad por cartas Mágicas y de Trampa, desafortunadamente solo fueron creadas unas cuantas, por lo que el Deck no es jugable, pero la idea constaba de varias cartas que iban deteniendo las funciones del juego, como son los efectos de monstruos, las Invocaciones, la activacion de cartas Mágicas y de Trampa, hasta el punto en que fuese posible robar cartas, para que algún jugador tuviera que rendirse en algún momento.
El Deck estaba basado en virus y problemas informáticos de computadoras y consolas de vidoejuegos (incluido el multijugador inline), eran representados con cartas con efectos similares a los del problema, los cuales como en la realidad causaban ciertos inconvenientes para ambos jugadores, la frase utilizada por su creador fue "se trata de hackear el juego en sí". Posiblemente no fue tan mala idea su cancelación, pero hubiera sido interesante para los Decks de aquella época.
Como el nombre lo indica en la parte "ZicH" el arquetipo también tuvo la intención de servir como soporte al arquetipo Zichfried, pero debido a que en ese momento era un Deck muy peligroso como para darle más soporte, se decidió que éste último fuese un arquetipo independiente. Solamente existen unas cuantas cartas y a pesar de no tener funcionalidad plena, estan prohibidas todas. Como dato curioso, algunas tienen errores de impresión en los nombres.
ZicHack No. ? - Conection Lost
ZicHack No. 5 - Lag
ZicHack No. 21 - Trojan
ZicHack No. 76 - Formatting
Ad blocker interference detected!
Wikia is a free-to-use site that makes money from advertising. We have a modified experience for viewers using ad blockers

Wikia is not accessible if you've made further modifications. Remove the custom ad blocker rule(s) and the page will load as expected.