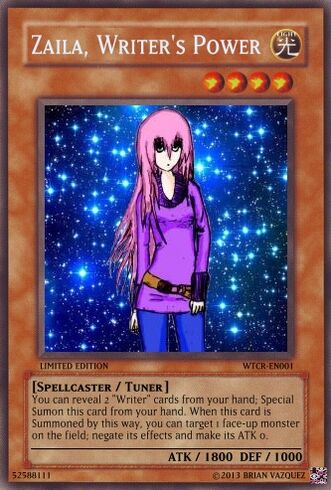 Zaila, Writer's Power
Edit
Inglés: Zaila, Writer's Power
Español: Zaila, el Poder del Escritor
Atributo: LUZ
Tipo: Lanzador de Conjuros
Nivel: 4
ATK/DEF: 1800/1000
No. de Carta: 5258111
Uso: Permitida 
Generación: Segunda
Clasificación: 2 (Media)
Creador: Brian Vázquez
Año: 2013
Efectos:
Puedes revelar 2 cartas "Escritor" desde tu mano; Invoca esta carta de Modo Especial desde tu mano. [vel 1]
Cuando esta carta es Invocada de este modo, puedes seleccionar 1 monstruo boca arriba en el campo; niega sus efectos y vuelve su ATK 0. [vel 2]
El efecto de auto-invocación es por medio de una condición, por lo que no inicia cadena.
Esta carta pertenece al subarquetipo por artwork "Creator Goddess".
Información de la Carta
Edit
"Zaila, Writer's Power" es una carta basada en Zaila, personaje del manga "The Fanfic" y "The Autofanfic". El efecto esta basado en sus poderes, los cuales pueden dejar nulo el poder de su adversario. En el manga también puede obtener y propiciar poder sin limitación aparente, pero esto no es mencionado en la carta.
Ad blocker interference detected!
Wikia is a free-to-use site that makes money from advertising. We have a modified experience for viewers using ad blockers

Wikia is not accessible if you've made further modifications. Remove the custom ad blocker rule(s) and the page will load as expected.