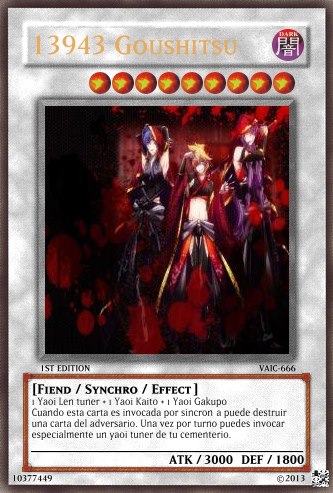 Yaoi 
es un arquetipo cancelado de la primer generación del
SCG
 creado por Santiago Rosas.
El Deck se basa en agregar varias cartas del arquetipo desde el Deck a la mano, pero la Invocación de los monstruos no esta completamente contemplada, o tal vez se deba a que no fueron creadas todas las cartas. Se tenía la finalidad de invocar algunos Synchros y Fusiones. Una de las características principales del Deck es que la mayoría de los monstruos son de tipo Divino, bajo las palabras del creador del Deck esto se debe a que "el yaoi es Divino".
En cierto modo el Deck era la contra parte o la parte antagonica del Deck Ecchi por lo que este último poseía cartas especialmente diseñadas contra el Deck Yaoi, como era "Rei, la Jugadora del Ecchi". 
En las primeras fases del SCG, cuando Decks como Zichfried (primera fase), Ecchi, o Divine Bird dominaban el terreno, el Deck Yaoi aún no estaba terminado, a esto, comparando la jugabilidad de los Decks SCG más poderosos, con la jugabilidad prácticamente TCG del Deck Yaoi, causaron que Santiago decidiera cancelar la creación del Deck y por último renunció al SCG. Todas las cartas del arquetipo están prohibidas. El idioma oficial del Deck es el español, aunque algunas cartas poseen partes en inglés, posbilemente por errores de tradicción o impresión.
Temática del Deck
Edit
El Deck está basado en ciertos fanfics sobre personajes de Vocaloid o directamente en animes/mangas yaoi como son Sensitive Pronograph, entre otros. Los monstruos estaban diseñados para agregarse mutuamente, posiblemente haciendo referencia a la "atracción" entre los personajes, sin embargo, nunca se dio una Master Guide oficial por parte del creador del Deck.
Monstruos:
Edit
Yaoi - Kaito
Yaoi - Len
Yaoi - Gakupo
Imitation Black
Llamado del Yaoi
Gran Marcha de llos Editores
Editorial Marukawa
Momento de Pasión
Suzuki
Extra Deck:
Edit
13943 Goushitsu
Aki-chan
Ad blocker interference detected!
Wikia is a free-to-use site that makes money from advertising. We have a modified experience for viewers using ad blockers

Wikia is not accessible if you've made further modifications. Remove the custom ad blocker rule(s) and the page will load as expected.