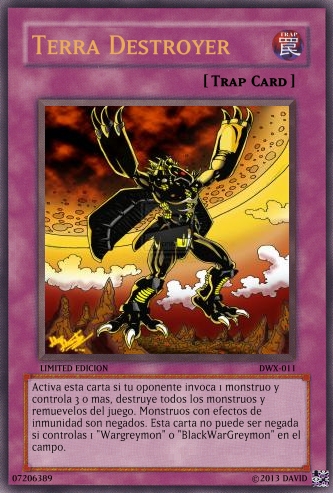 Terra Destroyer
Inglés: Terra Destroyer
Español: Destruccion Terraquia
Tipo: Trampa
Velocidad: 2
No. de Carta: 07206381
Uso: PROHIBIDA
Generación: Primera
Clasificación: 3 (Broken)
Creador: David Pedraza
Año: 2013
Activa esta carta si tu oponente invoca 1 monstruo y controla 3 o mas, destruye todos los monstruos en el campo y remuevelos del juego. Monstruos con efectos de inmunidad son negados. Esta carta no puede ser negada si controlas 1 "WarGreymon" o "BlackWarGreymon" en el campo
Efectos de inmunidad cuenta "unaffected", "cannot be destroy" o cualquier otro efecto que pudiera evitar ser afectados por otras cartas.
Si controlas 1 "WarGreymon" o "BlackWarGreymon", ningun jugador puede encadenar ninguna carta que niegue esta carta.
Información
Edit
Esta carta esta basada en el anime "Digimon". Esta basada en el poder de una de las Digievoluciones mas poderosa de la familia "Dramon".
Ad blocker interference detected!
Wikia is a free-to-use site that makes money from advertising. We have a modified experience for viewers using ad blockers

Wikia is not accessible if you've made further modifications. Remove the custom ad blocker rule(s) and the page will load as expected.