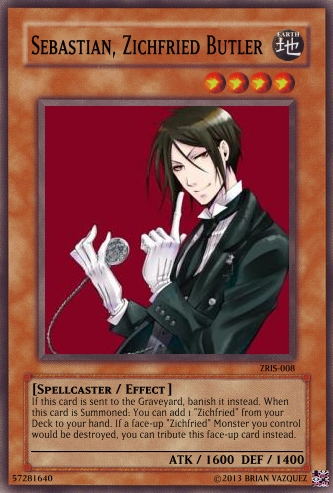 Sebastian, Zichfried Butler
Edit
Inglés: Sebastian, Zichfried Butler
Español: Sebastian, Mayormo de Zichfried
Atributo: TIERRA
Tipo: Hechicero
Nivel: 4
ATK/DEF: 1600/1400
No. de Carta: 57281640
Uso: PROHIBIDA
Generación: Primera
Clasificación: 1 (Normal)
Creador: Brian Vázquez
Año: 2013
Efectos:
Si esta carta es enviada al Cementerio, en vez de eso destiérrala. [vel 2]
Cuando esta carta es Invocada: Puedes agregar 1 "Zichfried" desde tu Deck a tu mano. [vel 1]
Si un monstruo "Zichfried" boca arriba que controles fuera a ser destruido, puedes tributar esta carta boca arriba en su lugar. [vel 2]
Si se utiliza el efecto de tributar para evitar la destrucción de un monstruo que controles por batalla, el daño es calculado normalmente como si no se hubiera utilizado este efecto.
Información
Edit
"Sebastian, Zichfried Butler" esta basado en Sebastian Michaelis, personaje del anime/manga Kuroshitsuji. Su efecto esta basado en su papel como mayordomo, aunque también hace otras cosas, su efecto se basó también el "Madolche Butlerusk" del TCG.
Ad blocker interference detected!
Wikia is a free-to-use site that makes money from advertising. We have a modified experience for viewers using ad blockers

Wikia is not accessible if you've made further modifications. Remove the custom ad blocker rule(s) and the page will load as expected.