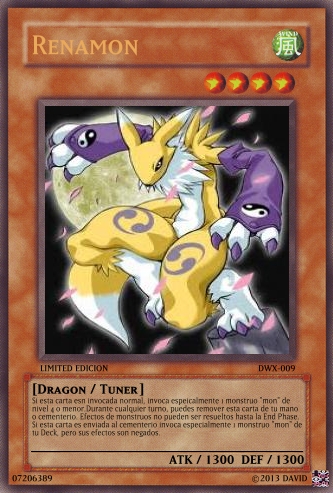 Renamon
Ingles: Renamon
Español: Renamon
Atributo: VIENTO
Tipo: Dragon
Nivel: 4
ATK/DEF: 1300/1300
No.de  Carta: 07206389
Uso: PROHIBIDA
Generacion: Primera
Clasificacion: 3 (Broken)
Creador: David Pedraza
Año: 2013
Si esta carta es invocada normal, invoca especialmente 1 monstruo "mon" de nievl 4 o menor de tu Deck. Durante cualquier turno, puedes remover esta carta de tu mano o cementerio. Efectos de monstruos no pueden ser resueltos hasta la End Phase. Si esta carta es enviada al cementerio, invoca especialmente 1 monstruo "moN" de tu Deck, pero sus efectos son negados.
Su efecto impide que cualquier otro efecto resuelva (asi que los costes si aplican)
Informacion

Edit
Es una carta basada en el anime "Digimon", haciendo a la vez alucion al arquetipo de TCG de Yu-Gi-Oh! conocido como "Dragon Ruler", A la vez combina las habilidades negadoras del arquetipo "Naturia".
Ad blocker interference detected!
Wikia is a free-to-use site that makes money from advertising. We have a modified experience for viewers using ad blockers

Wikia is not accessible if you've made further modifications. Remove the custom ad blocker rule(s) and the page will load as expected.