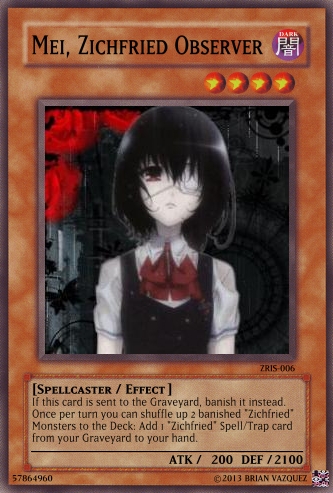 Mei, Zichfried Observer
Edit
Inglés: Mei, Zichfried Observer
Español: Mei, Observadora de Zichfried
Atributo: OSCURIDAD
Tipo: Hechicero
Nivel: 4
ATK/DEF: 200/2100
No. de Carta: 57864960
Uso: PROHIBIDA
Generación: Primera
Clasificación: 2 (Media)
Creador: Brian Vázquez
Año: 2013
Efectos:
Si esta carta es enviada al Cementerio, en vez de eso destiérrala. [vel 2]
Una vez por turno puedes barajar hasta 2 cartas "Zichfried" desterradas en el Deck; agrega 1 Carta Mágia/Trampa "Zichfried" desde tu Cementerio a tu mano. [vel 1]
En el efecto de barajar cartas en el Deck para agregar desde el Cementerio, barajar es un costo, pero se puede decidir si se pagan 1 o 2 cartas.
Los monstruos desterrados barajados como coste para el efecto de agregar desde el Cementerio pueden ser de tu oponente.
Información
Edit
"Mei, Zichfried Observer" esta basada en Misaki Mei, personaje del anime/manga Another. Posteriormente al avance del SCG se creó una versión mejorada de esta carta, bajo el nombre de "Mei, Zichmund Watcher ", perteneciente al arquetio Zichmund.
Ad blocker interference detected!
Wikia is a free-to-use site that makes money from advertising. We have a modified experience for viewers using ad blockers

Wikia is not accessible if you've made further modifications. Remove the custom ad blocker rule(s) and the page will load as expected.