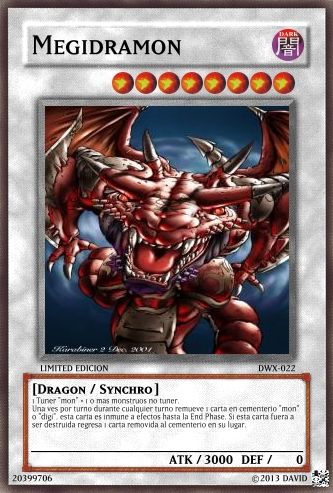 MegiDramon
Ingles: MegiDramon
Español: MegiDramon
Atributo: OSCURIDAD
Tipo: Dragon
Nivel: 8
ATK/DEF: 3000/0
No.de  Carta: 20399706
Uso: PROHIBIDA
Generacion: Primera
Clasificacion: 4 (Super Broken)
Creador: David Pedraza
Año: 2013
1 Tuner "mon" + 1 o mas monstruos no Tuner.
Una vez por turno, durante cualquier turno, puedes remueve 1 carta "mon" o "digI" en tu cementerio, esta carta es inmune a otras cartas hasta la End Phase. Si esta carta fuera a ser destruida, regresa una carta removida al cementerio en su lugar.
Enviar un monstruo removido al Deck para negar su destruccion no es opcional.
Informacion
Edit
Es una carta basada en el anime "Digimon". Pertenece a una serie de cartas llamadas "Sacred Dragon" que no tuvieron mucha presencia en el SCG.
Ad blocker interference detected!
Wikia is a free-to-use site that makes money from advertising. We have a modified experience for viewers using ad blockers

Wikia is not accessible if you've made further modifications. Remove the custom ad blocker rule(s) and the page will load as expected.