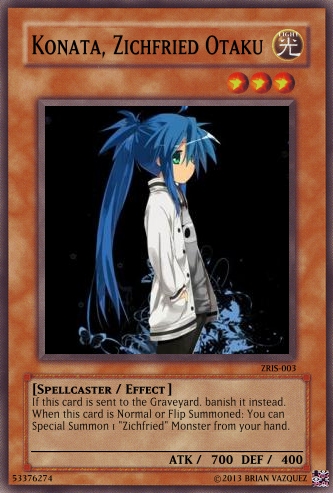 Konata, Zichfried Otaku
Edit
Inglés: Konata, Zichfried Otaku
Español: Konata, Otaku de Zichfried
Atributo: LUZ
Tipo: Hechicero
Nivel: 3
ATK/DEF: 700/400
No. de Carta: 53376274
Uso: PROHIBIDA
Generación: Primera
Clasificación: 1 (Normal)
Creador: Brian Vázquez
Año: 2013
Efectos:
Si esta carta es enviada al Cementerio, en vez de eso destiérrala. [vel 2]
Cuando esta carta es Invocada de Modo Normal o por Volteo: Puedes Invocar de Modo Especial 1 monstruo "Zichfried" desde tu mano. [vel 1]
Información
Edit
"Konata, Zichfried Otaku" esta basada en Izumi Konata, personaje del anime/manga Lucky Star. El efecto esta basado en la carta "Madolche Mewfeuille" del TCG.
Esta carta posee un artwork alternativo, el cual era el original, sin embargo se cambio por el mostrado anteriormente. A continuación se puede observar el arte alterno, ambos son legales si no consideramos que la carta esta prohibida.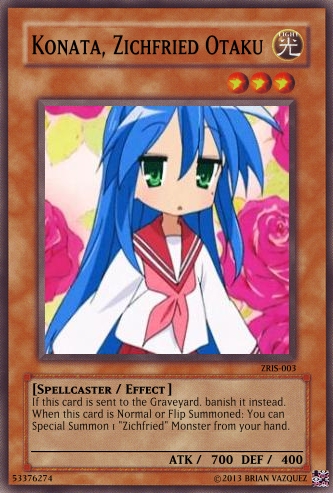 Ad blocker interference detected!
Wikia is a free-to-use site that makes money from advertising. We have a modified experience for viewers using ad blockers

Wikia is not accessible if you've made further modifications. Remove the custom ad blocker rule(s) and the page will load as expected.