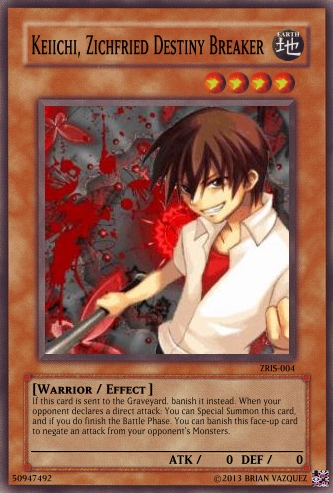 Keiichi, Zichfried Destiny Breaker
Edit
Inglés: Keiichi, Zichfried Destiny Breaker
Español: Keiichi, Rompe-destinos de Zichfried
Atributo: TIERRA
Tipo: Guerrero
Nivel: 4
ATK/DEF: 0/0
No. de Carta: 50947492
Uso: PROHIBIDA
Generación: Primera
Clasificación: 1 (Normal)
Creador: Brian Vázquez
Año: 2013
Efectos:
Si esta carta es enviada al Cementerio, en vez de eso destiérrala. [vel 2]
Cuado tu oponente declara un ataque directo: Puedes Invocar de Moso Especial esta carta, y si lo haces, termina la Battle Phase. 
Puedes desterrar esta carta boca arriba bajo tu control para negar el ataque de un monstruo que tu oponente. [vel 2]
Información
Edit
"Keiichi, Zichfried Destiny Breaker" esta basado en Maebara Keiichi, personaje del anime/manga Higurashi No Naku Koro Ni. Su efecto esta basado en su empeño al proteger a sus amigos en la trama, además esta basado en la carta TCG "Battle Fader".
Ad blocker interference detected!
Wikia is a free-to-use site that makes money from advertising. We have a modified experience for viewers using ad blockers

Wikia is not accessible if you've made further modifications. Remove the custom ad blocker rule(s) and the page will load as expected.