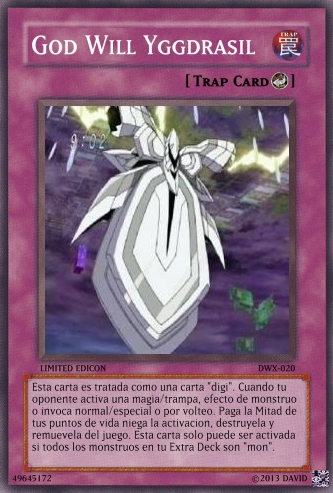 God Will Yggdrasil
Inglés: God Will Yggdrasil
Español: Voluntad del Dios Yggdrasil
Tipo: Trampa Counter
Velocidad: 3
No. de Carta: 49645172
Uso: PROHIBIDA
Generación: Primera
Clasificación: 3 (Broken)
Creador: David Pedraza
Año: 2013
Esta carta es tratada como una carta "digi". Cuando tu oponente activa una magia/trampa, efecto de monstruo o invoca normal/especial o por volteo. Paga la mitad de tus puntos de vida, niega la activacion o invocacion, destruyela y remuevela del juego. Esta carta solo puede ser activada si todos tus monstruos en tu Extra Deck son "mon".
Pagar puntos de vida es costo
Al activarla debes mostrar a tu oponente tu Extra Deck
Si el monstruo es inmune a trampas, y permanecia en el campo antes de la activacion de esta carta, el monstruo no es afectado por esta carta
Si el monstruo es inmune a trampas pero esta carta fue activada en respuesta a su invocacion, es destruido y removido, sin importar cualquier efecto del monstruo.
Información
Edit
Esta carta esta basada en el anime "Digimon". Esta basada en "Solemn Jugdment" pero en su lugar pusieron al dios de los Digimon al ser la fuerza absoluta del Digimundo.
Ad blocker interference detected!
Wikia is a free-to-use site that makes money from advertising. We have a modified experience for viewers using ad blockers

Wikia is not accessible if you've made further modifications. Remove the custom ad blocker rule(s) and the page will load as expected.