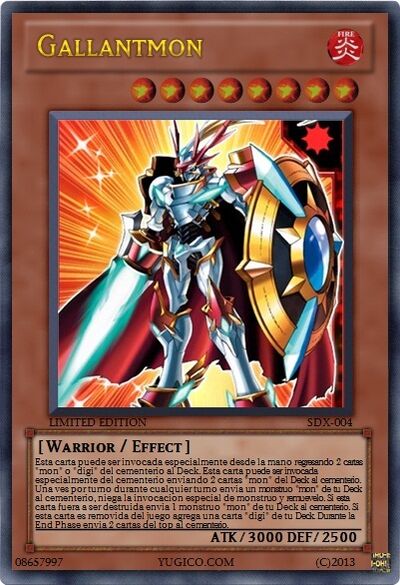 Gallatmon
Ingles: Gallatmon
Español: Gallatmon
Atributo: FUEGO
Tipo: Guerrero
Nivel: 8
ATK/DEF: 3000/2500
No.de  Carta: 08657997
Uso: PROHIBIDA
Generacion: Primera
Clasificacion: 4 (Super Broken)
Creador: David Pedraza
Año: 2013
Esta carta puede ser invocada especialmente desde la mano, regresando 2 cartas "mon" o "digi" del cementerio al  Deck. Esta carta puede ser invocada especialmente del cementerio enviando 2 cartas "mon" del Deck al cementerio. Una vez por turno, durante cualquier turno cuando tu oponente invoque especialmente un monstruo, puedes enviar un monstruo "mon" de tu Deck al cementerio, niega su invocacion y remuevelo. Si esta carta fuera a ser destruida, envia 1 monstruo "mon" del Deck al cementerio en su lugar. Si esta carta es removida del juego agrega 1 carta "digi" de tu Deck. Durante la End Phase envia 2 cartas del top al cementerio
Todos sus efectos de enviar monstruos "mon" del Deck al cementerio ya sea por coste o para negar su destruccion, tu puedes elegir cual de tus monstruos "mon" enviar, si no tienes mostruos "mon" en tu Deck, muestra tu Deck al oponente.
Negar invocaciones especiales, no incluye invocacion especiales asistidas por otra carta pero si por el efecto de la misma carta.
El efecto de negar invocacion puede ser activado en la Damage Step
Sus 2 maneras de ser invocado Especialmente, inician cadena.
Informacion
Edit
Es una carta basada en el anime "Digimon", haciendo a la vez alucion al arquetipo de TCG de Yu-Gi-Oh! conocido como "Dragon Ruler", A la vez combina las habilidades negadoras del arquetipo "Naturia".
Esta carta junto con otros 4 monstruos "mon" fue una de las 3 series de cartas de la primera generacion que dominaron el SCG y fueron prohibidas por su gran poder.
Ad blocker interference detected!
Wikia is a free-to-use site that makes money from advertising. We have a modified experience for viewers using ad blockers

Wikia is not accessible if you've made further modifications. Remove the custom ad blocker rule(s) and the page will load as expected.