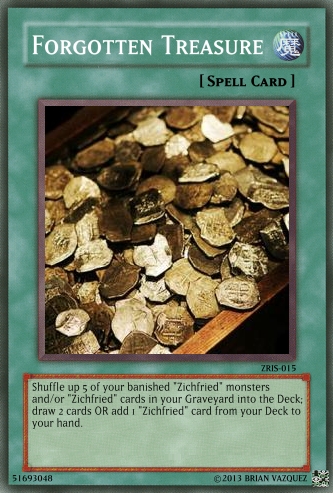 Forgotten Treasure
Edit
Inglés: Forgotten Treasure
Español: Tesoro Olvidado
Tipo: Magia Normal
Velocidad: 1
No. de Carta: 51693048
Uso: PROHIBIDA
Generación: Primera
Clasificación: 2 (Media)
Creador: Brian Vázquez
Año: 2013         
Efectos:
Baraja hasta 5 de tus monstros "Zichfried" desterrados y/o cartas en tu Cementerio en el Deck; roba 2 cartas O agrega 1 carta "Zichfried" desde tu Deck a tu mano. 
El número de cartas utilizado como coste es elegido entre 1 a 5, además de que las cartas en el Cementerio no deben ser necesariamente "Zichfried".
El efecto de esta carta puede ser elegido entre robar 2 cartas o agregar 1 carta "Zichfried" desde el Deck a la mano, el segundo efecto solo puede ser activado si aún hay objetivos en el Deck, pues no cuentan las cartas barajadas por el costo.
Información
Edit
Ésta carta está basada en cierta parte en la temática del arquetipo Zichfried, en la historia se menciona que existen algunos tesoros escondidos en la ciudad, pero son protegidos por los espíritus que la habitan. Existe una carta parecida llamada "Zichfried Lightning", y una versión mejorada en el arquetipo Zichmund llamada "Zichmund Communications".
Ad blocker interference detected!
Wikia is a free-to-use site that makes money from advertising. We have a modified experience for viewers using ad blockers

Wikia is not accessible if you've made further modifications. Remove the custom ad blocker rule(s) and the page will load as expected.