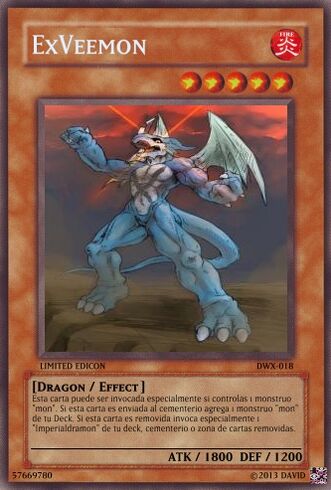 Exveemon
Ingles: ExVeemon
Español: ExVeemon
Atributo: FUEGO
Tipo: Dragon
Nivel: 5
ATK/DEF: 1800/1200
No.de  Carta: 57669789
Uso: PROHIBIDA
Generacion: Primera
Clasificacion: 2 (Buena)
Creador: David Pedraza
Año: 2013
Esta carta puede ser invocada especialmente si controlas 1 monstruo "mon". Si esta carta es enviada al cementerio agrega 1 monstruo "mon" de tu Deck. Si esta carta es removida invoca especialmente 1 "Imperialdramon" de tu Deck, cementerio o zona de cartas removidas
Todos sus efectos inician cadena
Informacion
Edit
Es una carta basada en el anime "Digimon", haciendo a la vez alucion al arquetipo de TCG de Yu-Gi-Oh! conocido como "Dragon Ruler", A la vez combina las habilidades negadoras del arquetipo "Naturia".
Ad blocker interference detected!
Wikia is a free-to-use site that makes money from advertising. We have a modified experience for viewers using ad blockers

Wikia is not accessible if you've made further modifications. Remove the custom ad blocker rule(s) and the page will load as expected.