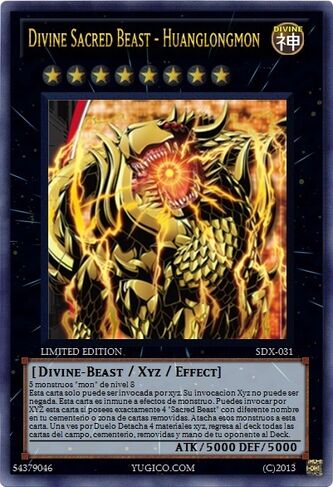 Divine Sacred Beast - Huanglongmon
Ingles: Divine Sacred Beast - Huanglongmon
Español: Divina Bestia Sagrada - Huanglongmon
Atributo: DIVINO
Tipo: Bestia Divina
Rango: 8
ATK/DEF: 5000/5000
No.de  Carta: 54379046
Uso: PROHIBIDA
Generacion: Primera
Clasificacion: 5 (Legend Broken)
Creador: David Pedraza
Año: 2013
5 monstruos "mon" de nivel 8
Esta carta solo puede ser invocada por una invocacion Xyz. Su invocacion Xyz no puede ser negada. Esta carta es inmune a efectos de monstruos. Puedes invocar esta carta mediante una invocacion Xyz, si posees exactamente 4 "Sacred Beast" con diferente nombre en tu cementerio o zona de cartas removidas. Acopla esos monstruos a esta carta como Materiales Xyz. Una vez por turno puedes desacoplar 4 materiales Xyz, regresa al Deck todas las cartas del campo, cementerio, removidas y mano de tu oponente al Deck.
Esta carta no puede ser invocada por otras vias que no sea una invocacion Xyz.
Informacion
Edit
Es una carta basada en el anime "Digimon", Esta basada es la fusion de las 4 "Sacred Beast" por lo que es el Digimon con mas ATK de toda la serie del arquetipo. Esta carta fue prohibida al imprimirse.
Ad blocker interference detected!
Wikia is a free-to-use site that makes money from advertising. We have a modified experience for viewers using ad blockers

Wikia is not accessible if you've made further modifications. Remove the custom ad blocker rule(s) and the page will load as expected.