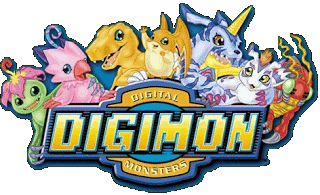 Digimon es un arquetipo de la primera generación del SCG, creado por David Pedraza basandose en en popular anime con el mismo nombre.
Un Deck que su estrategia era invocar rapidamente a WarGreymon, MetalGarurumon, Imperialdramon, Gallatmon y ShineGreymon, para ganar control. por medio de buscadores como "DigiVice" y el campo "DigiWorld", despues al tener por lo menos 2 de esos monstruo en el campo, seprocedia a hacer overlay invocando monstruos Xyz de Rango 8, los cuales eran debastadores para el oponente tal es el caso de las Sacred Beast, o en su caso de tener 3 o mas hacian a Omnimon, Gallatmon - Crimson Mode o Imperialdramon - Fighter Mode los cuales impedian que el oponente jugara sin cierto tipo de cartas y por alto ataque siendo casi imposible de que fueran derrotadas.
Tematica del DeckEdit
Al inicio el Deck se basaba en ir aumentando de nivel los monstruos en el campo, mientras los protegias con magias y trampas, pero al verse el Deck arrinconado por otros Decks aun mas poderosos tal es son como Zichfried o Ecchi, su nuevo soporte cambio su manera de jugar bruscamente, siendo mas a control que a ataque, gracias a 5 cartas los cuales permitieron que este Deck se pusiera entre los mejores y mas abusivos de ese formato, poniendolo a hacer casi lockdown perfectos al negar magias, trampas, efectos de monstruos, invocaciones especiales e incluzo invocacion normal. Su secreto de exito fue gracias al Extra Deck que portaba siendo casi todos sus miembros de clasificacion 5 (Legend Broken)
MonstruosEdit
Monstruos FusionEdit
Monstruos SynchroEdit
Monstruos XyzEdit
Ad blocker interference detected!
Wikia is a free-to-use site that makes money from advertising. We have a modified experience for viewers using ad blockers

Wikia is not accessible if you've made further modifications. Remove the custom ad blocker rule(s) and the page will load as expected.