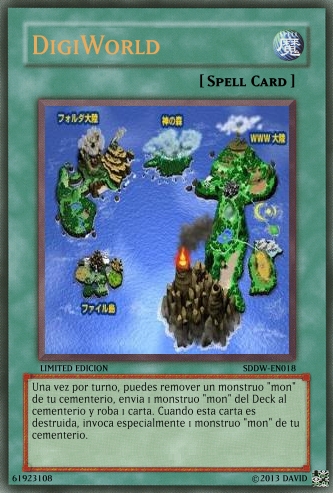 DigiWorld
Inglés: DigiWorld
Español: Digimundo
Tipo: Magia de Campo
Velocidad: 1
No. de Carta: 61923108
Uso: PROHIBIDA
Generación: Primera
Clasificación: 3 (Broken)
Creador: David Pedraza
Año: 2013
Una vez por turno, puedes remover un monstruo "mon" de tu cementerio, envia 1 monstruo "mon" del Deck al cementerio y roba 1 carta. Cuando esta carta es destruida, invoca especialmente 1 monstruo "mon" de tu cementerio.
Remover un monstruo "mon" es coste
Ya que su segundo efecto no especifica que sea del campo, si es destruida desde mano o negada y destruida aun asi se activa, este efecto no es opcional.
Información
Edit
Esta carta esta basada en el anime "Digimon". Al ser esta carta la representacion del mundo digital, tiene el poder de acelerar el Deck, como en la serie acelera y posibilita la Digievolucion, por lo que es parte vital del Deck y una de las pocas cartas que se mantuvo desde el inicio hasta la prohibicion de este sin cambios ni mejoras.
Ad blocker interference detected!
Wikia is a free-to-use site that makes money from advertising. We have a modified experience for viewers using ad blockers

Wikia is not accessible if you've made further modifications. Remove the custom ad blocker rule(s) and the page will load as expected.