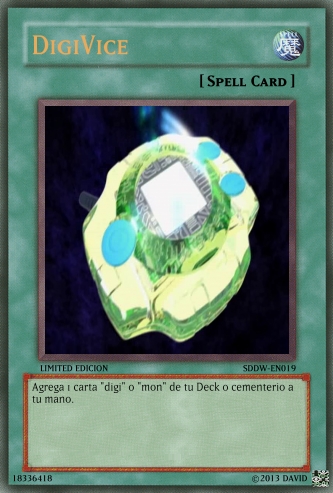 DigiVice
Inglés: DigiVice
Español: DigiVice
Tipo: Magia
Velocidad: 1
No. de Carta: 183364418
Uso: PROHIBIDA
Generación: Primera
Clasificación: 3 (Broken)
Creador: David Pedraza
Año: 2013
Agrega 1 carta "digI" o "mon" de tu Deck o cementerio a tu mano.
Si no posees cartas que agregar y es activada, el oponente puede ver tu Deck.
Información
Edit
Esta carta esta basada en el anime "Digimon". Al ser esta carta la representacion el dispositivo con el cual aceleran la digievolucion de los digimon elegidos por sus tamers, esta acelero increiblemente el Deck Digimon, siendo incluzo una de las cartas mas importantes y base de su gran exito..
Ad blocker interference detected!
Wikia is a free-to-use site that makes money from advertising. We have a modified experience for viewers using ad blockers

Wikia is not accessible if you've made further modifications. Remove the custom ad blocker rule(s) and the page will load as expected.