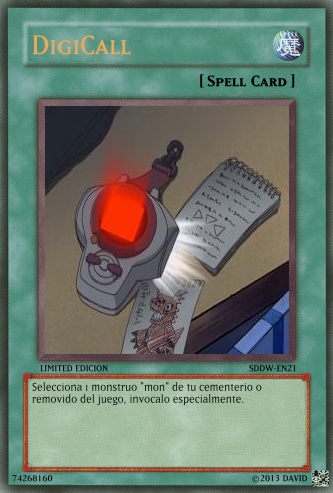 DigiCall
Inglés: DigiCall
Español: DigiCall
Tipo: Magia
Velocidad: 1
No. de Carta: 74268160
Uso: PROHIBIDA
Generación: Primera
Clasificación: 1 (Normal)
Creador: David Pedraza
Año: 2013
Selecciona 1 monstruo "mon" de tu cementerio o removido del juego, invocalo especialmente
Hace target.
Información
Edit
Esta carta esta basada en el anime "Digimon". En la imagen al ver como se creo el digimon "Guilmon" esta carta es el "Monster Reborn" del Deck...
Ad blocker interference detected!
Wikia is a free-to-use site that makes money from advertising. We have a modified experience for viewers using ad blockers

Wikia is not accessible if you've made further modifications. Remove the custom ad blocker rule(s) and the page will load as expected.