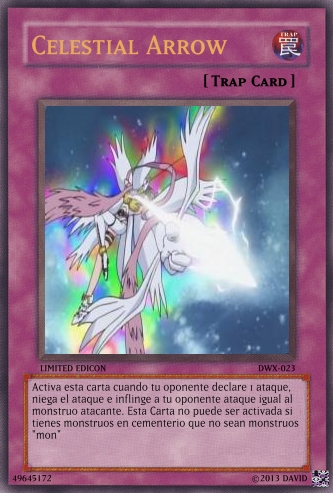 Celestial Arrow
Inglés: Celestial Arrow
Español: Flecha Celestial
Tipo: Trampa
Velocidad: 2
No. de Carta: 49645172
Uso: PROHIBIDA
Generación: Primera
Clasificación: 2 (Buena)
Creador: David Pedraza
Año: 2013
Activa esta carta cuando tu oponente declare 1 ataque, niega el ataque e inflinge a tu oponente daño igual al ATK del monstruo atacante. Esta carta no puede ser activada si tienes mosntruos en cementerio que no sean monstruos "mon".
Esta carta no hace target.
Esta carta no afecta directamente al monstruo, asi que aunque el monstruo sea inmune a trampas igual es negado el ataque.
Información
Edit
Esta carta esta basada en el anime "Digimon". Esta carta tiene en al imagen a "Angewomon", la cual en el anime la flecha celestial era hecha por la energia que absorbia, de hay el efecto de esta carta.
Ad blocker interference detected!
Wikia is a free-to-use site that makes money from advertising. We have a modified experience for viewers using ad blockers

Wikia is not accessible if you've made further modifications. Remove the custom ad blocker rule(s) and the page will load as expected.