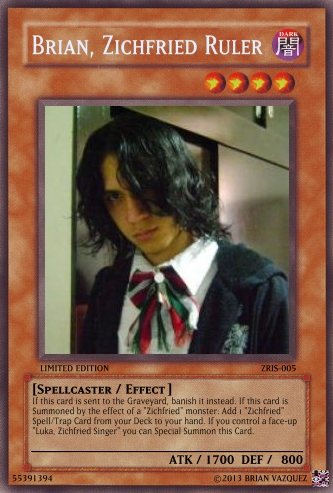 Brian, Zichfried Ruler
Edit
Inglés: Brian, Zichfried Ruler
Español: Brian, Gobernante de Zichfried
Atributo: OSCURIDAD
Tipo: Hechicero
Nivel: 4
ATK/DEF: 1700/800
No. de Carta: 55391394
Uso: PROHIBIDA
Generación: Primera
Clasificación: 3 (Broken)
Creador: Brian Vázquez
Año: 2013
Efectos:
Si esta carta es enviada al Cementerio, en vez de eso destiérrala. [vel 2]
Si esta carta es Invocada por el efecto de un monstruo "Zichfried"; agrega 1 Carta Magia/Trampa "Zichfried" desde tu Deck a tu mano. [vel 2]
Si controlas una "Luka, Cantante de Zichfried " boca arriba puedes Invocar de Modo Especial esta carta. [vel 1]
Si esta carta es Invocada de Modo Especial pos su propio efecto, el efecto de agregar una Carta Magia/Trampa es activado.
El efecto de Invocación Especial no inicia cadena.
Información
Edit
"Brian, Zichfried Ruler" es una carta basada en el creador del Decks SCG Zichfried. Oficialmente él declaró que el efecto se debía en parte a que le agradaba el perdonaje de Megurine Luka de Vocaloid, aunque en jugabilidad la carta esta basada en "Madolche Messengelato" del TCG.
Junto con "Luka, Zichfried Singer " y "Zichfried" era posible hacer un loop que daba total control en la Invocación desmedida de monstruos Xyz y Synchros, aunque en la segunda y tercera fase del Deck, su uso se redujo, aunque aún permitía una cadena muy grande de invocaciones.
Ad blocker interference detected!
Wikia is a free-to-use site that makes money from advertising. We have a modified experience for viewers using ad blockers

Wikia is not accessible if you've made further modifications. Remove the custom ad blocker rule(s) and the page will load as expected.