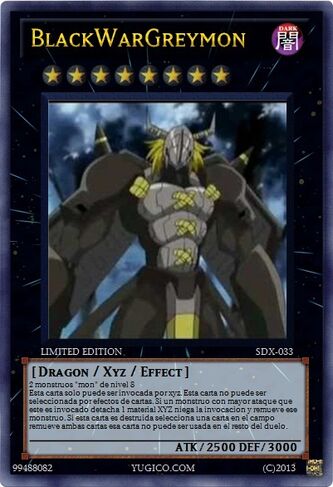 BlackWarGreymon
Ingles: BlackWargreymon
Español: BlackWarGreymon
Atributo: OSCURIDAD
Tipo: Dragon
Rango: 8
ATK/DEF: 2500/3000
No.de  Carta: 99488082
Uso: PROHIBIDA
Generacion: Primera
Clasificacion: 3 (Broken)
Creador: David Pedraza
Año: 2013
2 monstruos "mon" de nivel 8
Esta carta solo puede ser invocada por una invocacion Xyz. Esta carta no puede ser seleccionada por efectos de cartas. Si un monstruo con mayor ataque que esta carta es invocado, desacopla un material Xyz. niega su invocacion y remuevelo del juego. Si esta carta es destruida, selecciona una carta en el campo y remueve ambas cartas, la carta seleccionada no puede ser usada por el resto del Duelo.
Esta carta no puede ser invocada por otras vias que no sea una invocacion Xyz.
La carta removida por su segundo efectos no puede ser usada por el resto del Duelo, pero copias con el mismo nombre si pueden ser usadas.
Informacion
Edit
Es una carta basada en el anime "Digimon", Esta basada en la parte oscura de WarGreymon, por lo que posee el mismo ATK y DEF pero invertido
Ad blocker interference detected!
Wikia is a free-to-use site that makes money from advertising. We have a modified experience for viewers using ad blockers

Wikia is not accessible if you've made further modifications. Remove the custom ad blocker rule(s) and the page will load as expected.