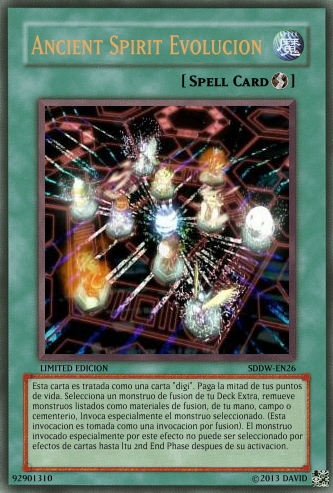 Ancient Spirit Evolucion
Inglés: Ancient Spirit Evolution
Español: Evolucion de Antiguos Espiritus
Tipo: Magia Rapida
Velocidad: 2
No. de Carta: 92901310
Uso: PROHIBIDA
Generación: Primera
Clasificación: 3 (Broken)
Creador: David Pedraza
Año: 2013
Esta carta es tratada como una carta "digI". Paga la mitad de tus puntos de vida. Selecciona un monstruo de fusion de tu Deck Extra, remueve monstruos listados como materiales de fusion de tu mano, campo o cementerio. Invoca Especialmente el monstruo seleccionado. (Esta invocacion es tomada como una invocacion de fusion). El monstruo invocado especialmente por este efecto no puede ser seleccionado por efectos de cartas hasta tu 2nd End Phase, despues de su activacion.
Pagar puntos de vida es coste
Remover monstruos materiales de fusion, no es coste
Información
Edit
Esta carta esta basada en el anime "Digimon". Esta es una version en SCG de la fusion de 2 cartas TCG "Miracle Fusion" y "Dark Fusion" para el arquetipo Digimon.
Ad blocker interference detected!
Wikia is a free-to-use site that makes money from advertising. We have a modified experience for viewers using ad blockers

Wikia is not accessible if you've made further modifications. Remove the custom ad blocker rule(s) and the page will load as expected.