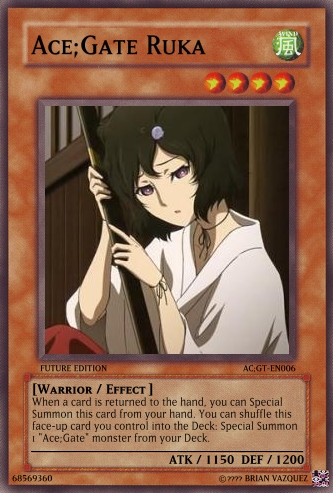 Ace;Gate Ruka
Edit
Inglés: Ace;Gate Ruka
Español: Experto de la Puerta;Ruka
Atributo: VIENTO
Tipo: Guerrero
Nivel: 4
ATK/DEF: 1150/1200
No. de Carta: 68569360
Uso: Permitida 
Generación: Segunda
Clasificación: 1 (Normal)
Creador: Brian Vázquez
Año: 2013     
Efectos:
Cuando una carta es regresada a la mano, puedes Invocar de Modo Especial esta carta desde tu mano. [vel 2]
Puedes barajar esta carta boca arriba bajo tu control en el Deck; Invoca de Modo Especial 1 monstruo "Experto de la Puerta" desde tu mano. [vel 1]
Barajar esta carta en el Deck para invocar 1 monstruo desde el Deck es un costo, pero solo puede ser activado si hay objetivos en el Deck.
A pesar de lo que se puede pensar, el artwork de esta carta es masculino, por lo que el efecto de Invocación de "Ace;Gate Daru" no puede ser activado si se controla sólo esta carta boca arriba.
Información de la Carta
Edit
"Ace;Gate Ruka" es una carta basada en Urushibara Rukako, personaje de la novela gráfica/anime Steins;Gate. El efecto esta basado en su intento de ayudar a sus amigos que suele realizar, pero su segundo efecto representa su timidez.
Un dato curioso es que el personaje es un hombre, con una apariencia muy femenina, a pesar de todo, en la trama llega a ser mujer gracias a cambios en la línea temporal, pero esto no es permamente.
Ad blocker interference detected!
Wikia is a free-to-use site that makes money from advertising. We have a modified experience for viewers using ad blockers

Wikia is not accessible if you've made further modifications. Remove the custom ad blocker rule(s) and the page will load as expected.