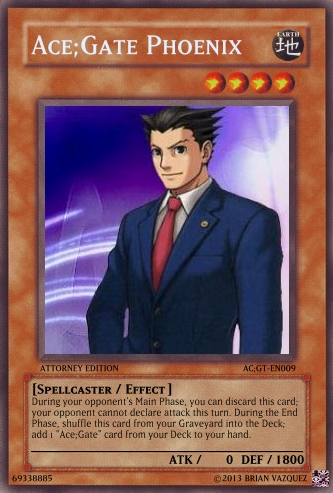 Ace;Gate Phoenix
Edit
Inglés: Ace;Gate Phoenix
Español: Experto de la Puerta;Phoenix
Atributo: TIERRA
Tipo: Lanzador de Conjuros
Nivel: 4
ATK/DEF: 0/1800
No. de Carta: 69338885
Uso: Permitida 
Generación: Segunda
Clasificación: 1 (Normal)
Creador: Brian Vázquez
Año: 2013
Efectos:
Durante la Main Phase de tu oponente, puedes descartar esta carta; tu oponente no puede declarar ataques este turno. [vel 2, restricción]
Durante la End Phase, baraja esta carta desde tu Cementerio en el Deck; agrega 1 carta "Experto de la Puerta" desde tu Deck a tu mano. [vel 2]
Barajar esta carta durante la End Phase sucede sin importar la forma en que llegó al Cementerio siempre y cuando esté ahí, pues barajar esta carta es un coste, pero solo puede ser pagado si aún se tienen objetivos en el Deck.
El efecto de agregar 1 carta durante la End Phase no puede ser utilizado para agregarse a si mismo.
Información
Edit
"Ace;Gate Phoenix" es una carta basada en Phoenix Wright, personaje del videojuego Ace Attorney. El efecto esta basado en la defensa que representa, pues es abogado, además de la capacidad que tiene para encontrar pruebas.
Ad blocker interference detected!
Wikia is a free-to-use site that makes money from advertising. We have a modified experience for viewers using ad blockers

Wikia is not accessible if you've made further modifications. Remove the custom ad blocker rule(s) and the page will load as expected.