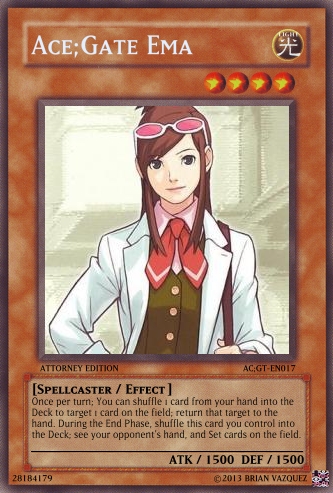 Ace;Gate Ema
Edit
Inglés: Ace;Gate Ema
Español: Experto de la Puerta;Ema
Atributo: LUZ
Tipo: Hechicero
Nivel: 4
ATK/DEF: 1500/1500
No. de Carta: 28184179
Uso: Permitida 
Generación: Segunda
Clasificación: 1 (Normal)
Creador: Brian Vázquez
Año: 2013
Efectos:
Una vez por turno; puedes barajar 1 carta desde tu mano en el Deck para seleccionar 1 carta en el campo; regresa ese objetivo a la mano. [vel 1]
Durante la End Phase, baraja esta carta bajo tu control en el Deck; ve la mano de tu oponente, y todas las cartas Colocadas en el campo. [vel 2]
Barajar esta carta durante la End Phase sucede aún si la carta esta boca abajo o bajo cualquier circunstancia siempre y cuando esté en el campo, pues barajar esta carta es un coste, pero solo puede ser pagado si hay cartas en la mano de tu oponente y/o si hay Colocadas en el campo.
Información
Edit
"Ace;Gate Ema" esta basada en Ema Skye, personaje del videojuego Ace Attorney. Su efecto esta basado en su habilidad para encontrar pistas y pruenas, como ella lo llama, de "forma ciéntifica".
Ad blocker interference detected!
Wikia is a free-to-use site that makes money from advertising. We have a modified experience for viewers using ad blockers

Wikia is not accessible if you've made further modifications. Remove the custom ad blocker rule(s) and the page will load as expected.